Sustainable Mother's Day Gift Guide
Gift giving is tricky. And Mother's Day can be an especially tough holiday. My wonderful mother would rather me do something for her instead of giving a gift, but living 1,800 miles away make this a little harder. So right before Mother's Day I scour the web for something I think she would like. Honestly though, it's usually too late to be on time and I settle for a quick ship or an IOU.
Now don't get me wrong - I LOVE giving when I've found the perfect gift I know she'll love. I believe that there is a problem with gifts that don't match the recipient and end up tossed in the back of the closet, on a thrift store shelf, or worst-case - in the trash. Gift-giving is embedded in our culture, but I think we could do with a more sustainable approach.
For me, the answer to that is quality. And a little extra thought. My gift-giving is still evolving, but I try to give things that are beautiful, useful and have meaning to the recipient, preferably with some kind of personal connection. And that takes a lot of thought! Anyone else feel the same?
This mother's day I've taken some of the work out for you and collected a few truly unique and beautiful things (mostly handmade) with meaningful stories. Whether you're shopping for yourself, your partner, or your mother, and whatever their views on sustainability, I hope you'll find something lovely for the deserving mother in your life.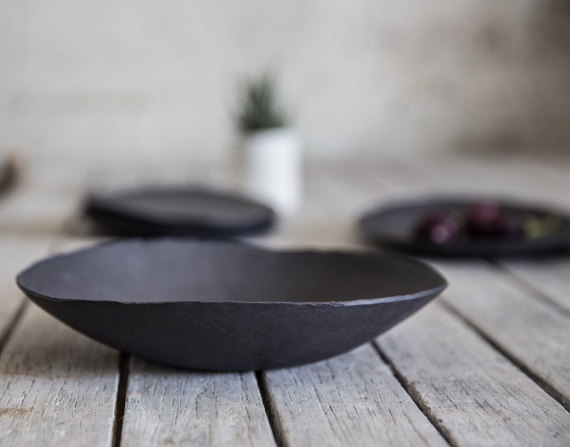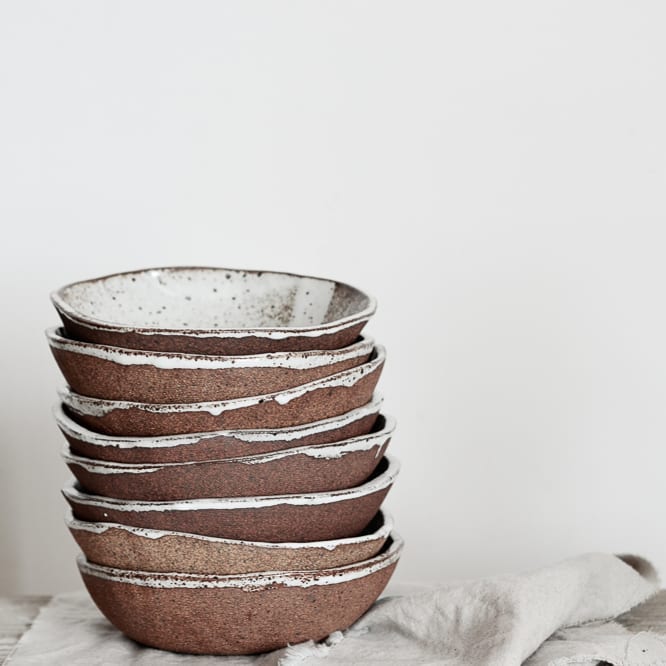 HANDMADE CERAMICS
If you've been following along with Wild Hearth so far, you probably already know that I love ceramics. My love started when I did ceramics club in elementary school, but it reached fruition when I took a course in college. Clay is so tactile; it speaks to you - begs you to touch it. Ceramics are a joy to use around the home, look amazing on display, and last lifetimes. Handmade ceramics are so special. They can make perfect gifts because they feel like a luxury so most people aren't collecting them constantly. Here are a few artists I'm loving right now:
1220 Ceramic Studio - Lior Shachar handcrafts her gorgeous, delicate pieces in Israel, packs every item very carefully, and incorporates environmentally friendly packaging.
A Question of Eagles - Melissa and Jonathan now live in Los Angeles, California and craft unique, modern rustic ceramics, jewelry, and quilts inspired by their "travels through the American landscape, and their love of the handmade."
Cambrian Bowls (will be back in their shop Sunday, May 6)
Susan Simonini - Susan is an artist based in North-West Tasmaniawho is inspired by the nature of the clay and loves imperfect forms and the visible impressions left by a maker.
I also love to get ceramics local. That way I can pick them up, feel them, and know if I'm going to love them. Another pro? No need to wait for delivery or worry about shipping damage. Check out your local farmers market or ceramic shop to support your local artists!
WOODEN SPOONS
Spoons have captured makers' imaginations for centuries. There is somethings special about spoons. I don't know if it's the shape or the fact that they're such versatile utensils and can be used for almost everything... they look beautiful on display in the kitchen, or as a serving spoon for dry goods. And feeling something handmade with your own hands is such a different experience than using something machine-made. It's like there's life inside the wood. Aren't these ones from Collin Garrity fun?? They have so much personality! They're made of black cherry and walnut, hardwoods that grow locally in St Louis, with flame-hardened bowls. I also love these flour and sugar scoops from Harriott Grace.
Stick vases are perfect for the mother in your life who doesn't do well with live plants (I'm raising my hand over here because I somehow just killed two succulents). Wooden vases look beautiful on their own or with a single branch inside. Think flowering tree branch in the spring, a maple branch with colored leaves in the fall, or a unique bare branch at the end of the year... anything that doesn't need water (just make sure the recipient knows not to add water). These gorgeous walnut ones are by Collin Garrity.
All mothers need a little pampering. These Bees to Bubbles honey and beeswax soaps make your skin feel deliciously soft as the honey conditions and the beeswax seals moisture in. Handmade in Wyoming by a family who keeps bees, the soaps contain local ingredients, sometimes from their own garden. And they come in a multitude of lovely scents. My favorites right now are lemongrass/cedar and vanilla musk, although you can't go wrong with any of the scents. These are the only bar soaps I buy now because I haven't found any others that can compete with the feel and effect on my skin. Bee populations are declining everywhere; support our beekeepers while giving your mother some deserved pampering! P.S. these come wrapped in beautiful compostable/recyclable boxes.
Made by Mary is a handmade jewelry shop. I have loved Made By Mary since she was only a small shop on Etsy. The quality is top notch (no flimsy bar necklaces that bend if you accidentally sleep in them), and many pieces are personalized so you can add a meaningful date or name for a truly special gift. I have several of her necklaces - one of which was given to me by my husband when our daughter was born (pictured above), so it reminds me of that day every time I wear it. I also get more compliments on the Made By Mary jewelry than any other brand I wear. One of my favorites for new mamas is the Mama & Mini Bracelet Duo. Keep in mind that pieces that are made-to-order will take time to create.
GIFT AN EXPERIENCE
Sometimes the best gifts are not ones you can hold. Giving the gift of an experience is not only sustainable, but will leave the mother in your life with great memories. Experiences can depend on where you live, but here are a few ideas:
A green spa day

A night out at her favorite restaurant

Concert or movie tickets

Lecture tickets

A cooking, glass-blowing, foraging, or other interesting class

A month's membership to a yoga or barre studio
I hope you found this helpful. Let me know in the comments what you're planning on giving your mother for Mother's Day!
Note: I do not receive any compensation for items included in this gift guide.